Schaeffler South East Asia donates 3,500 euros to charity organization in Mexico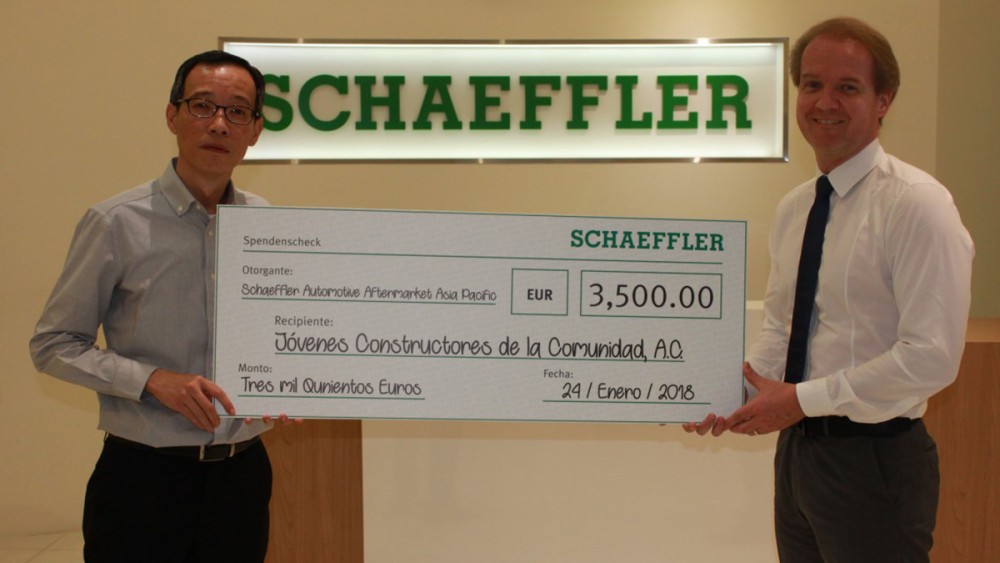 2018-02-13 | Singapore
The Automotive Aftermarket division of Schaeffler in South East Asia is forgoing sending its usual seasonal gifts to business partners and has made a donation to a charitable cause instead. A total of 3,500 euros was given to the Mexican charity organization Jóvenes Constructores de la Comunidad A.C.
After the major earthquake stuck Mexico City and the State of Puebla in September 2017, many houses, schools and community facilities were destroyed. Like always, this catastrophe hit socially disadvantaged people especially hard. With this donation, Schaeffler supports in rebuilding efforts and improving the living conditions of young people without job prospects at the same time. Through targeted training and advanced training, and their active contribution to building and reconstruction of houses and community facilities, these young people are getting a chance to join the working world again.
Representing Schaeffler Automotive Aftermarket South East Asia locally in Mexico was César Rafael Perez, Vice President Automotive Aftermarket Mexico of Schaeffler, who presented the donation to José Ramón Garrido Susacasa of Jóvenes Constructores de la Comunidad A.C.
This is a freely-usable donation that the organization can use locally where need is greatest, like disaster relief in wake of the earthquake in September 2017. Quickly available and freely-usable funds are especially important here to support people hardest hit by the catastrophe. The focus is not only to rebuild houses and community facilities as quickly as possible, but to also offer socially-disadvantaged young people a job perspective. This is achieved, for example, through education and continuing training as well as through active participation in the construction and reconstruction of buildings.
Jóvenes Constructores de la Comunidad A.C. has been supporting the interests of young, socially-disadvantaged people for over ten years. This charity organization has already helped over 11,000 young people, and their commitment even reaches beyond Mexico's borders. It is part of the international Youth Build Organization that has a network covering 22 countries, which contributes to the protection and support of young people worldwide.
Publisher: Schaeffler Singapore Pte. Ltd.
Country: Singapore
Share Page