Schaeffler at the Singapore Air Show 2020 (German Pavilion, Booth K87)
Schaeffler poised to ride the wave of Asia's aviation growth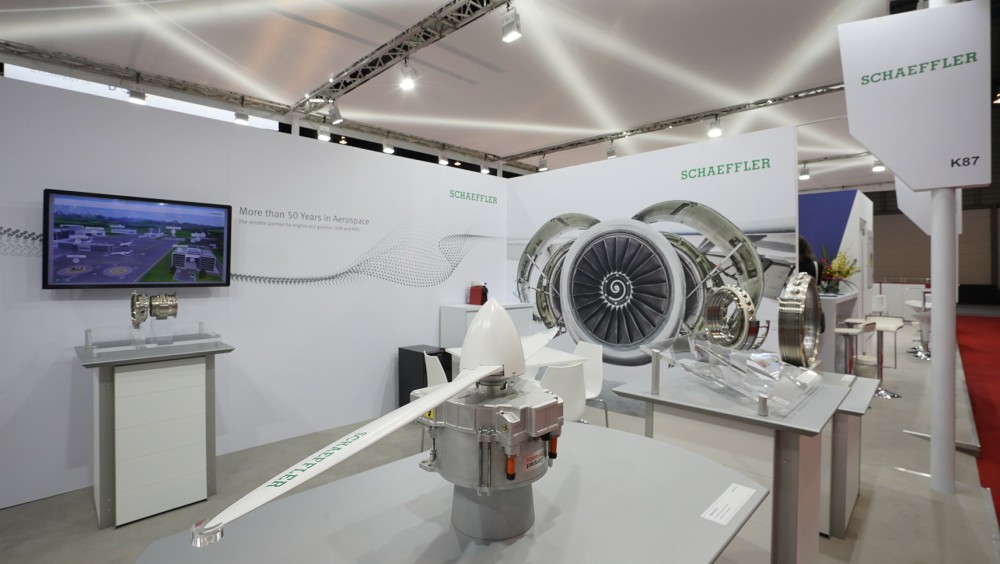 2020-02-11 | Singapore
Schaeffler displays highly efficient electric motor that meets rising demand for reliable electrification in aviation in Asia
With Asia Pacific accounting for 30% of global deliveries of New Generation Engines, Schaeffler Aerospace showcases products, applications and services it offers on the latest engine designs
As the first and only aerospace bearing MRO service provider in Asia, Schaeffler Aerospace (Singapore) celebrates milestone of 5 years of operations in Singapore
Schaeffler Aerospace (Singapore) is presenting a range of products and new technology solutions for reducing carbon emissions and improving competitiveness in the aviation sector at the Singapore Airshow 2020.
Schaeffler's technology and system expertise in aerospace includes special bearings, integrated bearing systems and high-precision components, bearing reconditioning solutions for maintenance, repair and overhaul (MRO) operations; and innovative bearing materials for aircraft engines with higher speeds and thrust loads. Reconditioning of such a complex system reduces its lifecycle costs and helps to protect the environment: A reduction in CO2 emissions of up to 80 percent can be achieved by reconditioning bearings rather than manufacturing new ones.
Asia Pacific is growing market for electrification and urban air mobility
With its bustling megacities and high governmental support, Asia Pacific region has become an ideal test-bed and development hub for new mobility solutions. Several established as well as new enterprises in the aerospace industry are making significant investments in the region for electrification and urban air mobility solutions.
"Asia is a strong driver of our growth, and the Singapore facility contributes strategically to our global MRO network. Many of our customers are here in Asia Pacific and we are also developing new partnerships to develop and test solutions for the future. We want to be close to our customers so that we can grow with them by offering faster and wider access to our technology and services," said Martin Schreiber, President Industrial at Schaeffler Asia Pacific.
Significant growth in deliveries of next generation aircraft and engines in Asia
Schaeffler Aerospace (Singapore) is the only fully certified aviation bearing reconditioning facility in Asia. At the Singapore Air Show, the company is displaying its latest portfolio of aerospace bearings that are used in new generation aircraft that offer higher fuel efficiency and reduce carbon emissions by up to 15%. These new aircraft models, which are in production today will stay in service well into the next 40 years. Ian Lam, Head of Schaeffler Aerospace (Singapore) said, "Asia is currently one of the largest markets for these new models. As part of the global network of Schaeffler Aerospace, the Singapore facility will provide inspection and repair solutions for a significant proportion of these new models that will be delivered in Asia."
Milestone for Schaeffler Aerospace in Singapore
Singapore is implementing plans to accelerate growth in productivity and efficiency of its aerospace sector as Asia Pacific is set to become the world's largest aviation market. Having established a strong local footprint in Asia, Schaeffler Aerospace will continue to grow its service offering and MRO capability in close partnership with its customers. Launched in 2015, Schaeffler Aerospace (Singapore) is celebrating its milestone of 5 years of operations in Singapore.
About Schaeffler Aerospace
Schaeffler Aerospace was established over 50 years ago in Schweinfurt and we produce high-precision bearings and bearing supports for jet engines. The bearings are designed to operate in critical environments like aircraft engines, turboprops, helicopters, space shuttles and satellites. With a global network of MRO centers, Schaeffler Aerospace provides customers with diagnostics and bearing reconditioning to help them lower life cycle costs while maintaining a high level of system reliability.
Publisher: Schaeffler Asia Pacific
Country: Singapore
Share Page