Condition monitoring system honored as top innovation
Schaeffler OPTIME wins Industry 4.0 Innovation Award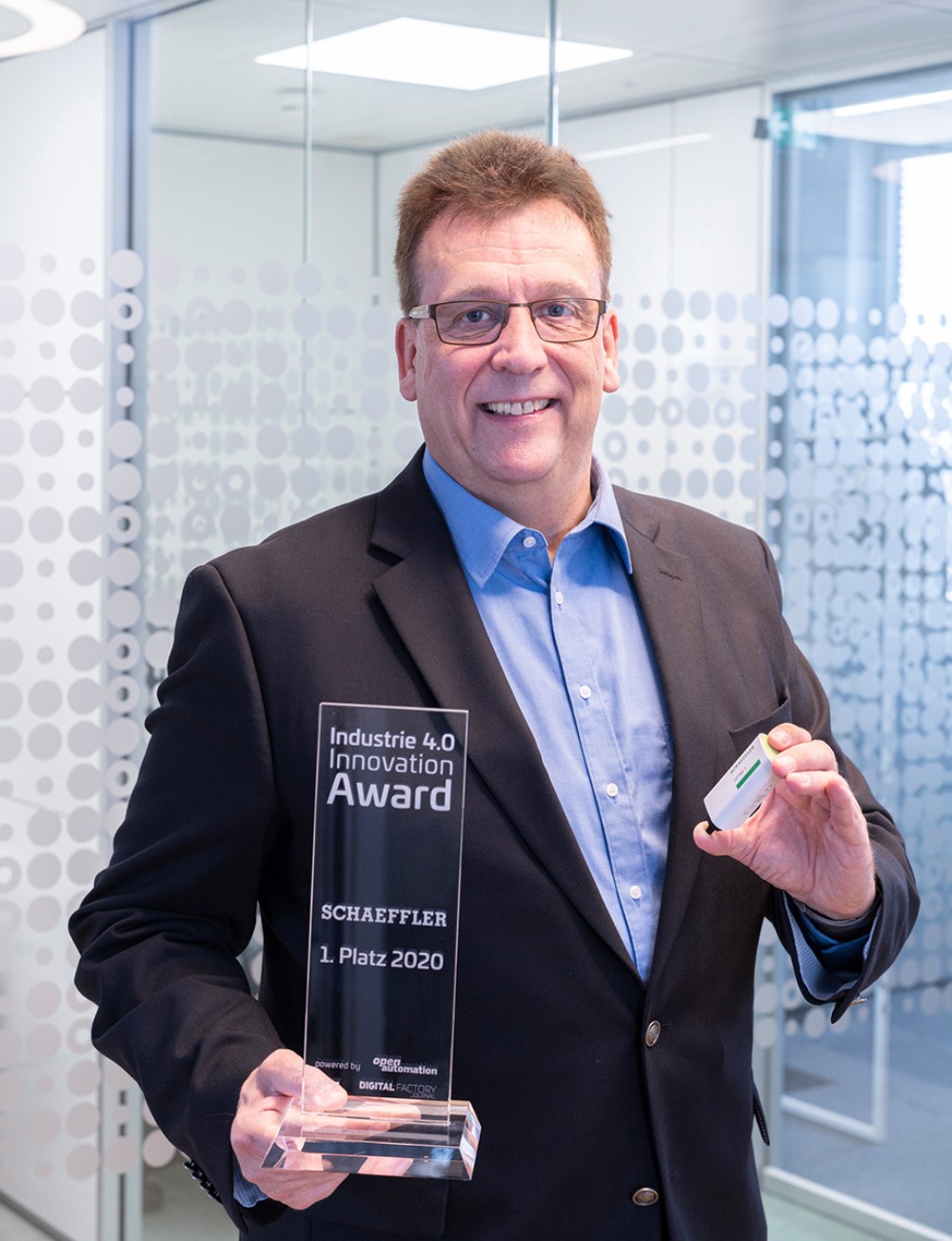 2020-12-09 | Schweinfurt | Singapore
Award confirms Schaeffler's ambition to shape progress that moves the world
Schaeffler OPTIME enables simple, cost-effective and highly scalable condition monitoring
Schaeffler's expertise allows solution with high level of automation
The Schaeffler OPTIME condition monitoring system was only presented to the market just a few months ago and now, has won the Industry 4.0 Innovation-Award. This confirms the automotive and industrial supplier's ambition to shape progress that moves the world. The VDE Verlag is presenting the award for the fifth time and in collaboration with the German Electrical and Electronic Manufacturers' Association (ZVEI) as well as the Standardization Council Industry 4.0. Products and innovations that make a valuable or substantial contribution in connection with Industry 4.0 are eligible for participation in the award.
Rauli Hantikainen, Head of the Industry 4.0 strategic business field, says: "Schaeffler's teams and development partners showed a high level of commitment in orienting the OPTIME concept towards the requirements and specific working environment of our customers. We are now very proud to receive the Industry 4.0 Innovation Award for OPTIME. This award serves as recognition and motivation to continue developing solutions with a pioneering spirit and the power of innovation for our customers.
Simple, cost-effective, and scalable
OPTIME was developed for the condition monitoring of entire plants and production facilities. The focus is on the monitoring of electric motors, pumps, units, and fans, i.e. drives and units, which are used in very large numbers and whose condition was hardly monitored or only monitored manually until now due to a lack of cost-effective and technical solutions.
Operators frequently criticize the high costs for condition monitoring systems caused by complex installations and configurations, additional costs for manual analyses that are difficult to calculate, and the quality and informative value of the analyses. Schaeffler's OPTIME condition monitoring system overcomes these specific obstacles and enables simple, cost-effective and highly scalable condition monitoring for the first time. Operators or maintenance personnel of production facilities can easily install and put into operation several hundred measurement points in a single day. Schaeffler's expertise in the field of vibration analysis and power transmission enables a high level of automation that eliminates the need for the costly contracting of external experts during initial operation and data analysis. Condition monitoring using Schaeffler OPTIME costs just a few cents per day for every measuring point.
"We pioneer motion"
With this new development, Schaeffler is also building on its history, which has been shaped by a pioneering spirit and the power of innovation. The world and Schaeffler as a company have been continuously changing and re-inventing themselves since the invention of the cage-guided needle roller bearing 70 years ago. But motion has always remained a central theme as expressed in the new "We pioneer motion" claim. For many years, Schaeffler has also been using the expertise gained in this way to develop digital services and solutions for industrial customers and thus open up new markets.
Schaeffler OPTIME is now available in Europe and selected countries in Asia Pacific and will be rolled out shortly in other regions. More information on the product is available online:
www.schaeffler.de/optime
Publisher: Schaeffler (Singapore) Pte. Ltd.
Country: Singapore
Share Page