Schaeffler at 46th Tokyo Motor Show 2019
Making mobility sustainable and autonomous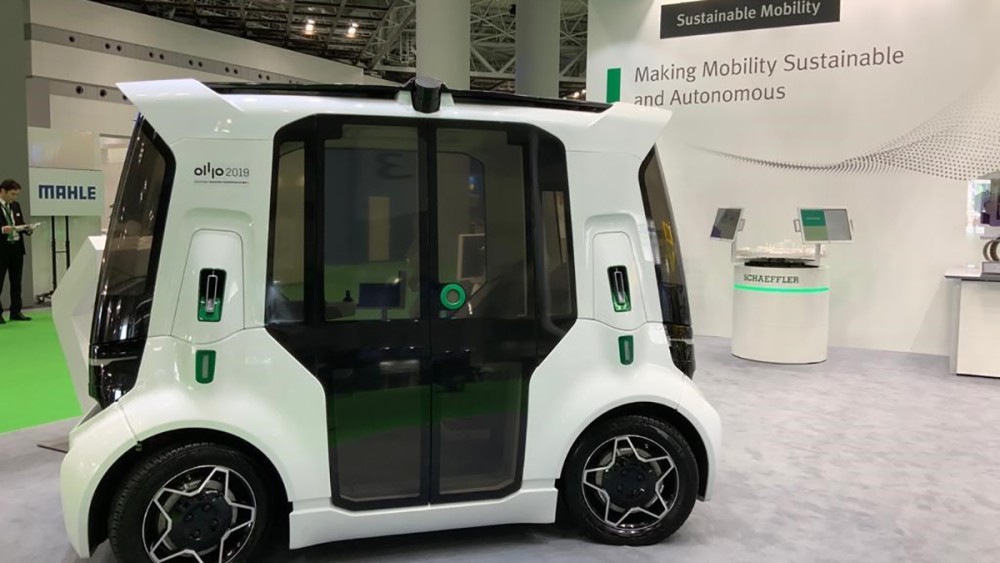 2019-10-23 | Singpore/Yokohama
Schaeffler presence at 46th Tokyo Motor Show (S3203, South Hall) shows how innovative technology can shape sustainable mobility
Optimization of drive technologies and holistic understanding of energy chain as keynote themes
Spotlight on Schaeffler Mover as innovative mobility concept for urban spaces, Schaeffler electric motor and drive-by-wire as key enabling technologies for tomorrow's mobility
Schaeffler developing Asia as innovation hub for future mobility
As a system partner for the automotive industry, Schaeffler Group is stepping up to the challenge to enable the mobility sector to achieve a significant reduction in its CO2 emissions by 2050. With a showcase themed "Making Mobility Sustainable and Autonomous", the company is using the 46th Tokyo Motor Show (TMS) 2019 to present its vision of innovation-led sustainable mobility. "We see the current mobility transformation as an opportunity to use our expertise in drivetrain and chassis technology to innovatively shape tomorrow's sustainable mobility sector," said Schaeffler AG Chief Executive Officer Klaus Rosenfeld. The company is using its TMS showcase to present its integrated perspective on the entire mobility-sector energy chain and profile its innovative system solutions. Among the highlights is the first-ever public showing of the company's own Schaeffler electric motors in Asia-Pacific, which have been developed in a range of output classes and are now going into large-volume production. Other highlights include the Schaeffler Intelligent Corner Module with its 90-degree steering angle, drive-by-wire as a key enabling technology for self-driving cars and the Schaeffler Mover as a new mobility concept for urban spaces.
Holistic perspective on the entire energy chain
As an integrated automotive and industrial supplier, Schaeffler views the energy chain as a whole – which is why it is also able to offer system and product solutions for renewable energy generation, for example. "To be sustainable, you have to look at the entire energy chain. Simply shifting emissions from one point in the chain to another has no impact on the overall CO2 balance," Klaus Rosenfeld said. In its initial advance development work on fuel cell components, Schaeffler is leveraging its traditional core expertise in materials technology, material forming and surface technology. The company's main strength here is that it is strongly diversified in the industrial and automotive sectors and is thus involved at every point in the energy chain, from the generation of energy through to its use in vehicles.
Electric motors go into high-volume production
One highly promising approach to reducing CO2 emissions is drivetrain electrification. At the TMS, Schaeffler is demonstrating how it is supporting automakers in their electric mobility journey with its extensive portfolio of electrification technologies. "We have products for all options along the electrification spectrum, from mild hybridization to full hybrid vehicles and plug-in hybrids, right through to high-performance electric motors for pure electric vehicles," explained Schaeffler's CEO Automotive OEM, Matthias Zink.
Schaeffler is now commencing final-stage development and volume production of electric motors in voltage classes ranging from 48 to 800 V and with outputs ranging from 15 to 300 kW.
Schaeffler Mover as mobility concept for urban spaces
Another factor shaping tomorrow's mobility, alongside climate targets, is urbanization. At the TMS, Schaeffler is addressing this challenge with the latest version of the Schaeffler Mover, a self-driving and highly adaptable development platform that brings together a whole host of new Schaeffler technologies. At the heart of this new concept vehicle is a rolling chassis system featuring "Space Drive" drive-by-wire technology, which Schaeffler sees as a key enabler of self-driving cars. The chassis comprises four Schaeffler Intelligent Corner Modules – four wheel hubs in which all drive and suspension components are integrated into a single, space-saving unit. The concept vehicle recently won the German Mobility Prize offered by Germany's Federal Ministry of Transport and Digital Infrastructure.
Schaeffler developing Asia as innovation hub for future mobility
Asia is a living lab for innovation in future mobility solutions and the region, including Japan, plays key role in Schaeffler's research and development activities. In 2019, Schaeffler hosted the first "Technology Partnering Asia Pacific" event at its regional R&D hub in Yokohama. At its urban mobility research hub in Singapore, the company is engaged in development and testing of advanced mobility solutions and software in partnership with start-ups. "Strategic partnerships and co-creation are key for success in this era of disruption and transformation in the mobility sector. We have steadily grown our R&D capabilities in Asia to be stronger development partners for our customers," said Dharmesh Arora, who recently took over as the new Chief Executive Officer for Asia-Pacific.
As it establishes the future management team for the region, Schaeffler introduced other leadership changes in Asia-Pacific and Japan. Shoichi Tanaka has assumed the role of Managing Director and Representative Director for Schaeffler Japan from October 1, 2019. The company also announced the new Chief Technology Officer for Asia Pacific, Tomohiro Yamashita, who will assume this role from January 1, 2020 based in Yokohama.
Publisher: Schaeffler Singapore
Country: Singapore
Share Page