Schaeffler joins Thai university consortium to promote technical skills in railway technology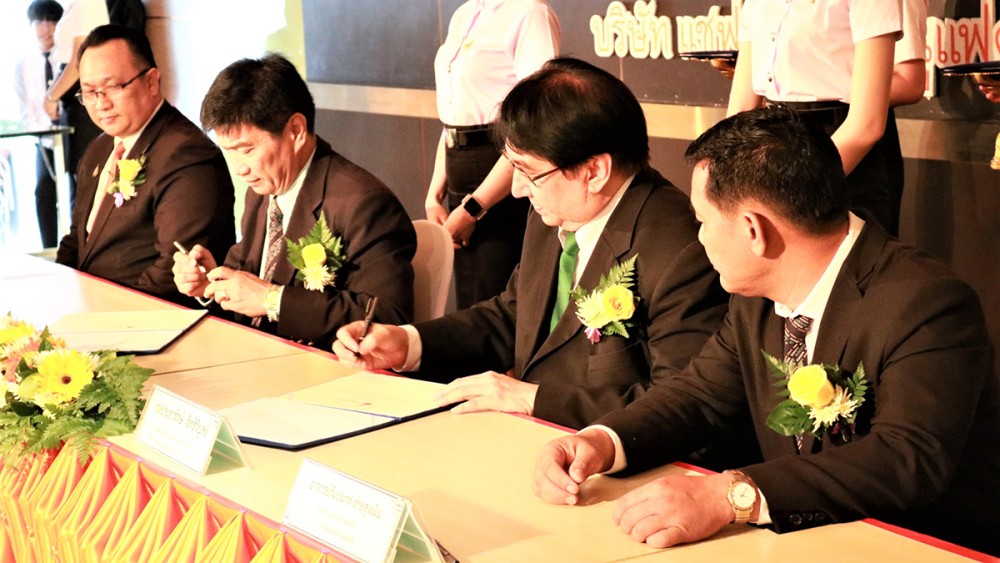 2020-01-20 | Bangkok
Schaeffler and the Rajamangala University of Technology Isan (RMUTI) have signed an Memorandum of Understanding (MoU) to further develop the knowledge of railway systems and technology in Thailand. Schaeffler and two other specialist companies – TNG Cooperation and Heavy 34 Engineering – signed the academic cooperation framework with RMUTI to develop and conduct courses, learning programs and technical trainings about railway transportation systems at the College of Innovation Skills (CIS) within the University.
Schaeffler is a global development partner for interurban mobility
The challenges posed to future mobility outside the cities are immense as interurban traffic increases. Schaeffler has been serving the industry for over ten decades with our competence in manufacturing bearings for the railway sector. "We are pleased to further expand our role in the development of the railways sector, especially in the strategic development zone of Central and Southeast Asia as well as Greater China. When we look at the current trends in interurban transportation, no railway project is purely local - most projects are very international, even global, and require comprehensive understanding of systems combined with innovative products and solutions," explains Martin Schreiber, President Industrial at Schaeffler Asia Pacific. The company has in-depth expertise and technical knowledge in a wide range of railway projects, including high-speed transportation, freight transportation, and local transport in the world's growing megacities. Schaeffler operates accredited test laboratories for rail traffic applications in Germany and China, which are constantly being expanded.
Strong legacy of research and innovation for railway applications
As a world leader in the area of innovation, Schaeffler is consistent in expanding its collaboration with universities, institutes, and research facilities. The agreement with RMUTI strengthens the global innovation network of Schaeffler and widen the knowledge base to include specialists from Thailand. In 2017, the company established the Schaeffler Hub for Advanced Research at Southwest Jiaotong University (SHARE at SWJTU) in Chengdu province of China. The cooperation with SWJTU focuses on design and further development of axlebox bearings by combining research capacity of the university with Schaeffler's mechatronic competence and system expertise in the predictive maintenance.
High-potential university based in Thailand's development hub for railways
The RMUTI is part of the Rajamangala University of Technology (RMUT), which is a state-run federation of nine universities in Thailand providing undergraduate and graduate level education. The RMUTI operates 5 campuses in the Northeast Thailand, which is the main development region for the Belt and Road initiative. Phase 1 (2017 – 2021) of the high-speed railway project from Bangkok to Nakhon Ratchasima (252.5 km) is currently under construction. The 2nd Phase (2022 – 2026) will extend from Nakhon Ratchasima to Nong Khai covering 355 km.
In recent years, the RMUTI has gained prominence as one of the leading academic institutions making a notable contribution to improve standard of technical education and vocational training in Thailand, especially in the area of railway transportation systems.
Chaichan Opanayikul, Deputy Country Manager at Schaeffler Manufacturing (Thailand) Co. Ltd. adds, "This collaboration marks the Schaeffler Group's first participation in an academic project for interurban mobility in Thailand. This will further strengthen initiatives of the Government of Thailand to modernize industry and transport facilities in Southeast Asia as part of the Belt and Road initiative."
Publisher: Schaeffler Asia Pacific
Country: Singapore
Share Page