Black Series Ball Bearing Units
The new Black Series Ball Bearing Units from FAG stand for easy mounting, quiet running and high reliability. The dimensions of the painted cast iron housings are according to JIS 1559 B. Radial insert ball bearings based on series 62 are fitted in the housings. The outer and inner rings of the radial insert ball bearings have a DUROTECT B coating in order to provide improved anti-corrosion protection. The characteristic, black units are particularly suitable for applications with medium to high loads such as in agricultural machinery, drive technology, conveying technology, pumps or in the steel industry.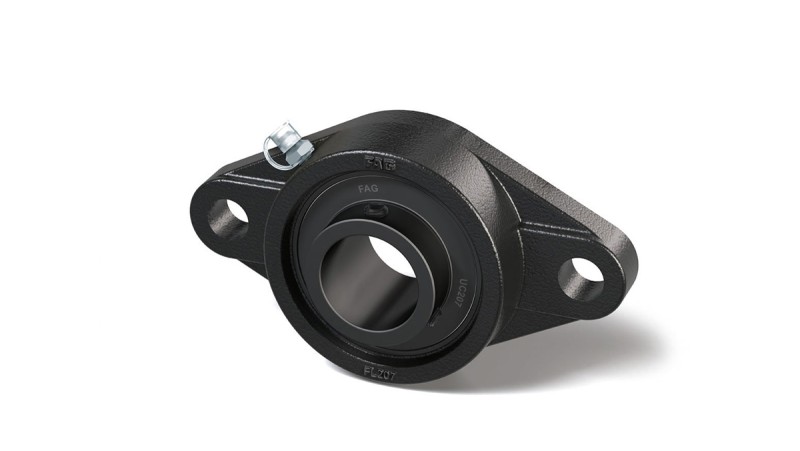 Simple mounting
Misalignments are compensated by the matched design of the housing and the radial insert bearing and the plus tolerance of the bore. Reworking of the shaft is no longer required. In addition, two self-retaining set screws that are offset by 120° securely locate the inner ring on the shaft. A suitable Allen key is supplied with every ball bearing unit. This reduces the mounting outlay to a minimum.
Quiet running and low friction
The Black Series Ball Bearing Units also make a convincing case during operation due to their proven FAG quality standard. The optimized internal geometry, honed raceways and high ball quality ensure quiet running and the low frictional torque of the radial insert ball bearings. This reduces the energy requirements of applications. The energy efficiency is further improved with the extremely low-friction plastic cage.
High reliability and long bearing operating life
Minimum friction also involves minimum heat generation and therefore a maximum grease operating life. The ball bearing units are supplied prelubricated and can be easily relubricated via a lubrication nipple if required. The seal that is firmly staked in the outer ring retains the grease in the bearing and thus allows easier relubrication. It has a vulcanized seal lip that effectively prevent dust and water entering the bearing. To protect the seal lip against damage an outer flinger shield is fitted on the inner ring. In addition, the radial insert ball bearings have an improved anti-corrosion protection. An antirotation pin locates the outer ring firmly in the housing. The robust Black Series Ball Bearing Units are most suitable for challenging operating conditions. The relevant application requires less maintenance. This saves the operator time and money.
Product range
The FAG Black Series Ball Bearing Units are supplied with both metric and inch bore diameters. Schaeffler Group Industrial is initially offering one pillow block housing unit as well as a two bolt and a four bolt flange unit. These will be followed by further housing types and a range of diameters that will be increased successively.
Benefits:
Interchangeable according to JIS
Simple mounting
Economica
Quiet running
Energy efficient
Long grease service life
Low heat generation
Reliable
Robust
Advanced anti-corrosive protection
High load carrying
Long operating life
Extended maintenance intervals
Features:
Housing dimensions according to JIS B 1559
Grey cast iron housing, painted black
Radial insert ball bearings based on ball bearing series 62
Black oxide coated rings to improve corrosion resistance
Bore diameters available in inch and metric dimensions
One-piece seal with molded seal lip
Polyamide cage with optimized friction behavior
Factory lubricated, lubrication nipple for relubrication
Two set screws offset by 120°
Anti-rotating pin for location of the outer ring
Bore size
Pillow Block Unit
Square Flanged Unit
Rhombus Flanged Unit
Bearing Insert
20 mm
UCP204
UCF204
UCFL204
UC204
0.3/4"
UCP204-12
UCF204-12
UCFL204-12
UC204-12
25 mm
UCP205
UCF205
UCFL205
UC205
1.0/0"
UCP205-16
UCF205-16
UCFL205-16
UC205-16
30 mm
UCP206
UCF206
UCFL206
UC206
1.1/8"
UCP206-18
UCF206-18
UCFL206-18
UC206-18
35 mm
UCP207
UCF207
UCFL207
UC207
1.1/4"
UCP207-20
UCF207-20
UCFL207-20
UC207-20
40 mm
UCP208
UCF208
UCFL208
UC208
1.1/2"
UCP208-24
UCF208-24
UCFL208-24
UC208-24
45 mm
UCP209
UCF209
UCFL209
UC209
1.3/4"
UCP209-28
UCF209-28
UCFL209-28
UC209-28
50 mm
UCP210
UCF210
UCFL210
UC210
1.7/8"
UCP210-30
UCF210-30
UCFL210-30
UC210-30
55 mm
UCP211
UCF211
UCFL211
UC211
2"
UCP211-32
UCF211-32
UCFL211-32
UC211-32
60 mm
UCP212
UCF212
UCFL212
UC212
2.1/4"
UCP212-36
UCF212-36
UCFL212-36
UC212-36
Share Page