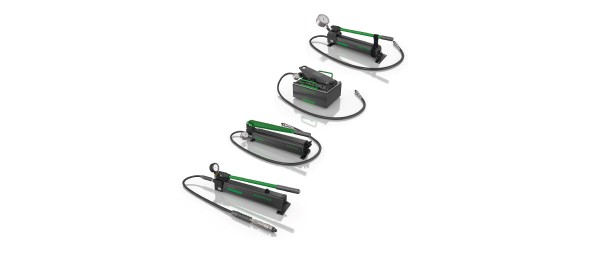 Now available in three designs for every requirement
Hydraulic pumps for the installation and removal of bearings with hydraulic nuts
Rolling bearings must be precisely positioned on conical shafts to fit securely enough on the one hand and to maintain the specified radial clearance and prevent damage to the bearings on the other hand. This is best done with hydraulic nuts for pressing the bearings onto the shaft and hydraulic pumps as hydraulic pressure generators for the nuts.
Schaeffler now offers three complete hydraulic pump sets for this purpose to suit different requirements. The complete sets are supplied ready-to-use and each comprise a pump body that is filled with hydraulic oil at the factory, an analog manometer, and a hydraulic hose with a coupling sleeve and coupling nipple with a G1/4 thread.
Advantages offered by all our hydraulic pump sets
• Precise positioning of the rolling bearing
• Ease of use and low force expenditure
• Reduced risk of damage to rolling bearings
• A wide range of accessories
• Digital measuring gauge can be used for determining drive-up distance
PUMP700-2L – the cost-effective hand pump set
The cost-effective pump set PUMP700-2L is suitable for the occasional installation and removal of rolling bearings. The two-stage pump can generate 700 bar and has a 2-liter oil container. It is easy to use and operated using a manual lever; it also weighs just six kilograms.
PUMP1000-2,2L – the powerful and robust hand pump
The PUMP1000-2,2L also has two stages and is operated with a manual lever. With a maximum operating pressure of 1,000 bar, it is significantly more powerful and requires less force than its smaller counterpart. The more robust design is particularly suitable for frequent operation and its oil container holds 2.2 liters.
PUMP1000-5L-AIR – the comfort pump operated using compressed air
The top model PUMP1000-5L-AIR also generates an operating pressure of up to 1,000 bar, but has an oil container holding five liters and is operated using an external compressed air supply. It is easy to operate using a footswitch and working with it is ergonomic and requires little force. The PUMP1000-5L-AIR is therefore the first choice for everyday use – in volume production assembly. for example – and is also recommended when using large hydraulic nuts.
Mounting Manager – the simple online mounting tool
The Schaeffler Mounting Manager provides you with online assistance in the correct mounting of bearings. Its operation is remarkably simple and you will receive a precise calculation instead of approximate values from tables. The Mounting Manager asks for the small range of data required step by step. As a result, it displays the mechanical and hydraulic procedures, calculates the required mounting parameters such as the starting pressure and the drive-up distance, provides helpful mounting instructions, and creates a list with the accessories and tools required.
Conclusion
With three different hydraulic pump sets to suit every requirement, Schaeffler offers the right tools for the simple and precise installation of rolling bearings using hydraulic nuts.
Contact Us
For further enquiries, please contact us here.
Links
Download for brief information "Hydraulic pumps for mounting and dismounting"
Download for technical product information "Hydraulic pumps"