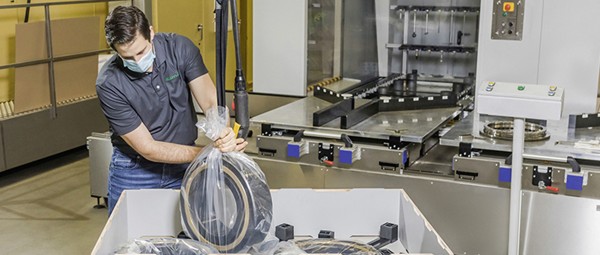 SMART Box saves 50 percent CO2 emissions
Innovative packaging system for large size bearings helps increase sustainability in logistics
The fact that Schaeffler does not simply pay lip service to strive for sustainability in the supply chain is demonstrated time and again in joint projects with our business partners. The latest example: Together with the drive manufacturer Flender, we have developed a new packaging system for large-size bearings with an outside diameter of 350 to 750 mm. Known as the Schaeffler Modular Adaptable Returnable Transport Box or SMART Box for short, it makes logistics significantly more eco-friendly. At several Schaeffler locations, the returnable transport box has already replaced the previous disposable rolling bearing boxes. And for good reasons.
More than 50 percent – how a transport box helps cut CO2 emissions by half
The SMART Box, coated with melamine resin on both sides, is so robust that one box can be reused up to 20 times. This results in significantly less wood waste compared to disposable boxes. As a result, the new packaging system achieves CO2 savings of more than 50 percent – even with the return transportation of the empty packaging factored in.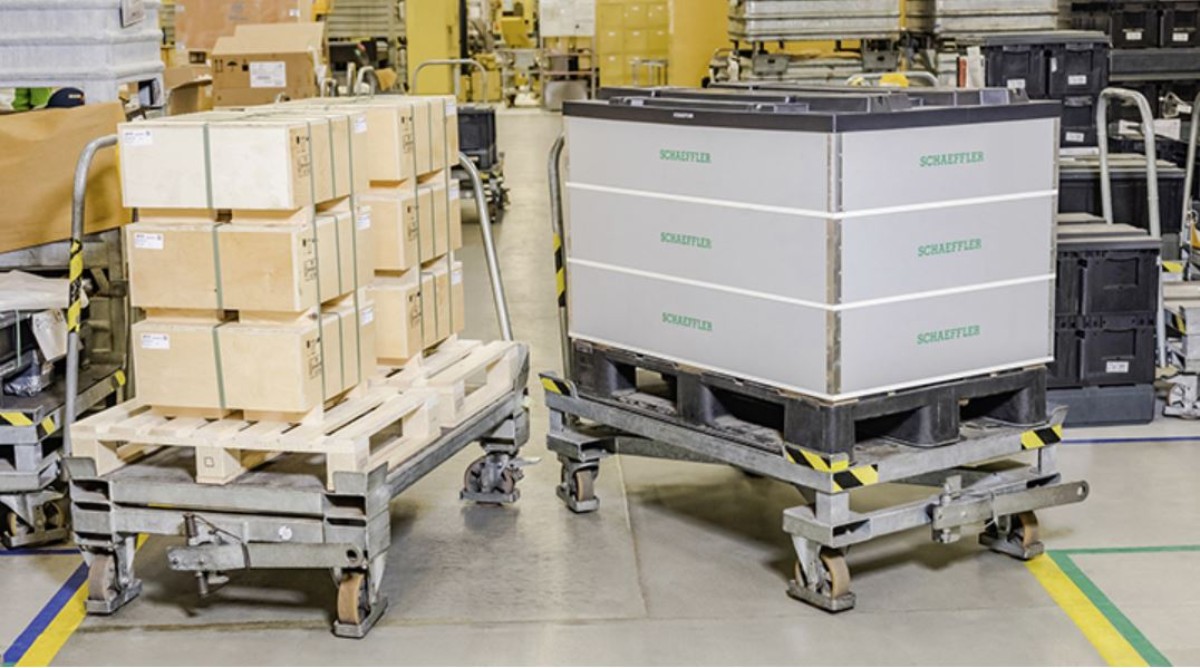 The size of the SMART Box (right) corresponds to the footprint of a euro pallet. A total of up to five frames can be stacked per pallet. This replaces a multitude of individual boxes across several pallets.
Saving more than 100 tons of wood annually
Andreas Evertz, Flender Group CEO, commented on the SMART Box and reduced wood waste: "For Flender, the close cooperation with customers and suppliers is a key part of achieving complete climate neutrality. For this reason, it is important for us to focus our attention on potential savings within the supply chain. We are delighted to have a partner in Schaeffler who also thinks along these lines. With the introduction of SMART Boxes for one gearbox platform, we are already reducing the amount of wood used as a disposable packaging material by more than 100 tons per year."
Sustainable – while being practical and economical
"The subject of sustainability has been firmly rooted in Schaeffler's DNA for many years and represents one of our four corporate values," says Dr. Stefan Spindler, CEO Industrial at Schaeffler. "Thanks to the new packaging system, not only is the handling of the boxes improved, but storage space and costs are also significantly reduced."
Conclusion
Would you have thought that using a SMART Box could save over 100 tons of wood annually? And this is just the beginning. Currently, Schaeffler is working on the design of a box for bearings with an outside diameter of up to 2400 mm as well as an associated GPS tracking system. Stay tuned!
Do you have any questions about our products?
Link to our Sustainability Report