Condition Monitoring – for all plant assets
Schaeffler OPTIME is your key to comprehensive, automated condition monitoring
As a rule, permanent condition monitoring is typically used only for production machines that are directly process-critical – simply because comprehensive monitoring, including of all auxiliary units, has not been economically viable up to now. But it is only when the condition of all plant assets is automatically recorded and tracked that unplanned downtimes of machines and plants can be reliably avoided and maintenance activities effectively planned.
Hope or continuous automated monitoring – it's your choice what to rely on
Schaeffler OPTIME is an economical and fully automated condition monitoring solution for indirectly process-critical plant assets. This is the first solution on the market of its kind that provides a comprehensive view of the machine park including all subsystems and auxiliary units. In other words: You won't miss anything that could develop into a problem. Thus, you can optimally ensure the availability of your plants and processes. At the same time, you save up to 50 percent in costs compared with manual offline monitoring.
That's what we call sound: Data analysis based on Schaeffler expertise
OPTIME is an easily scalable system consisting of wireless, battery-powered vibration sensors, a gateway, and an app for displaying the resulting analysis data. The data captured by the sensors are automatically analyzed based on specially developed algorithms that draw on Schaeffler's experience and unique expertise developed over many decades. This enables such highly reliable and accurate results to be achieved. OPTIME identifies impending damage to plant assets, often several weeks before the danger of failure becomes acute, and provides concrete information on the cause of said damage via smartphone.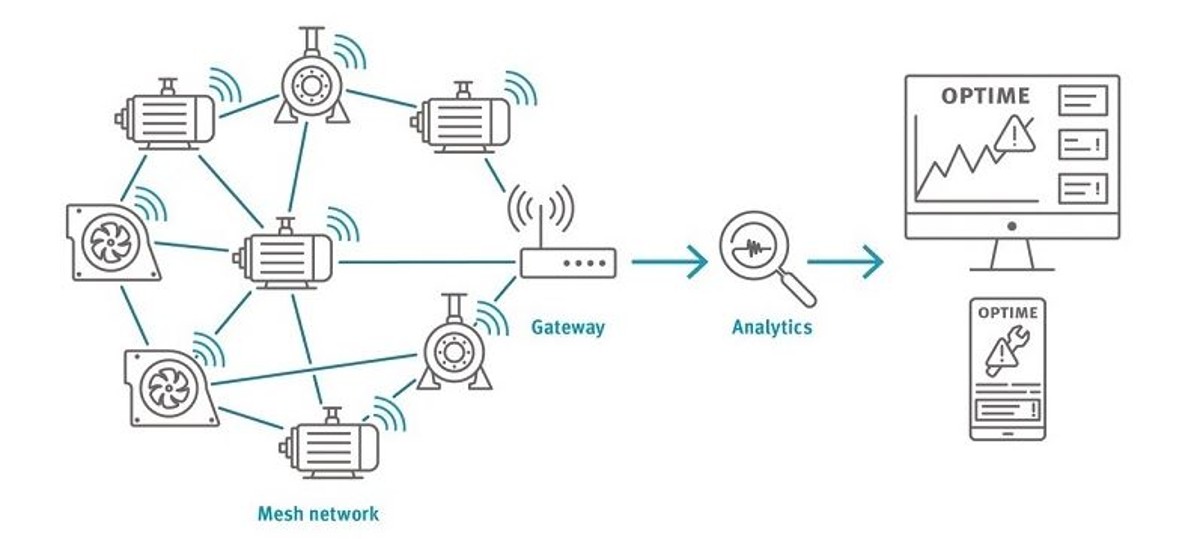 Schaeffler OPTIME communicates via a mesh network – currently the best data transmission standard for industrial environments.
As simple as can be: Wireless installation, information via smartphone
The installation and operation of OPTIME do not require any previous condition monitoring knowledge and can be accomplished in a minimal amount of time without integration into the customer IT. Several hundred measuring points can be set up in a single day. All sensors communicate autonomously with each other and the gateway, thereby forming a dedicated mesh network, that acts as the best transmission technology currently in use in the industry today. The raw data captured by the sensors are transmitted via the gateway to the Schaeffler IoT Hub where they are automatically analyzed. The results are displayed in the integrated app.
Conclusion
Schaeffler OPTIME is an extremely economical solution for the comprehensive and automated condition monitoring of all of your machine and system assets. Installation and operation are simple. The system offers immense added value. You can look forward to further news and features that we will be presenting to you over the next few months.
OPTIME is now available in Europe, China, USA, Canada and selected countries in Asia Pacific (Malaysia, Philippines, Singapore, South Korea, Thailand, Australia, New Zealand and India). Other countries will follow soon.
Do you have any questions about our products?
Link
For further information on Schaeffler OPTIME, please visit our website.