Leading in the 6th generation
Why our latest linear recirculating roller bearing and guideway assemblies will impress your customers.
We have been pioneers in monorail guidance systems for over 50 years and continue to set new standards. The 6th generation of our linear recirculating roller bearing and guideway assemblies, our new RUE-F series once again convinces with ground-braking innovations and high added value. More economical, smoother running, easier to install and more digital than ever before, it offers your customers decisive advantages. At the same time, the new models are fully compatible with the previous series RUE-E as well as the complete range of accessories. For your customers, this means that a performance upgrade through retrofitting is possible at any time without any problems.
Advantages of the new RUE-F linear recirculating roller bearing and guideway assemblies
They need less lubricant – resulting in significantly lower operating costs
They operate more smoothly – resulting in the highest precision and workpiece quality
They are equipped with reliable seals – resulting in high availability and long operating life
They considerably simplify the mounting process – resulting in maximum time savings
They offer digital options – enabling straightforward machine and lubrication monitoring capability
They are fully compatible with the previous generation– enabling a smooth changeover
Fluidically optimized lubrication channels reduce operating costs
Flow-optimized lubrication channels distribute the lubricant perfectly to all four raceways – independent of the mounting position of the carriage and regardless of whether grease or oil is used for lubrication. Together with further detail optimizations, lubricant savings of up to 50 percent can be achieved. In addition, the operational reliability and operating life are increased while maintenance requirements are reduced.
New, innovative rolling element recirculation unit ensures maximum running smoothness
The Schaeffler Engineers have completely redesigned the rolling element recirculating system using an innovative material and optimized internal design. The very robust recirculation unit achieved in this way, with a smooth entry of the rollers into the load zone, reduces displacement forces by up to 40 percent and displacement force deviations by up to 30 percent. This results in extremely smooth running, which ensures optimum surface quality in processing machines and predestines the guideway assemblies for use even in measuring machines.
New seal design as an effective sealing solution for all guideway variants
Today's machine rooms contain not only metal chips and cooling lubricants but also particles of ceramics and glass as well as residues from additive manufacturing processes. This results in new challenges for sealing technology, which are taken into consideration in our new RUE-F series: The seals are designed to be uniform for all guideway variants. And, of course, special seals are also available.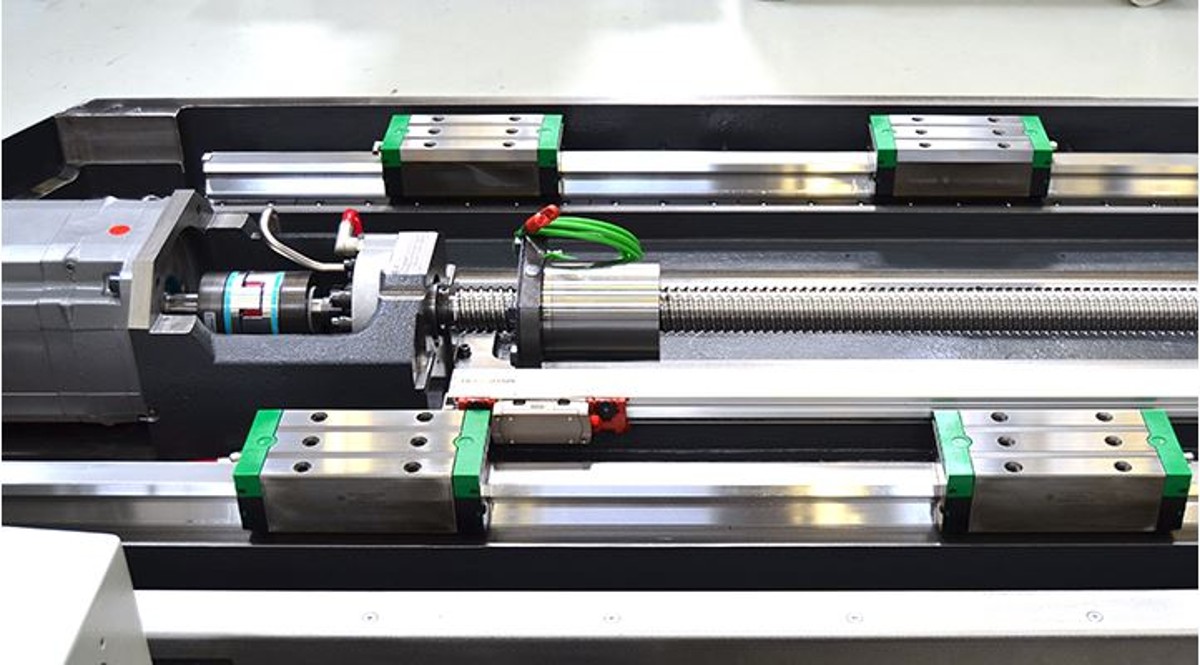 The new Schaeffler RUE-F linear recirculating roller bearing and guideway assemblies offer maximum precision and cost-effectiveness with minimum maintenance and mounting outlay.
Innovative assembly solutions save time and lower costs
With our new one-pieced/two-pieced closing plugs, we achieve up to 50 percent savings in mounting time compared to other solutions. Our reusable, self-locking ADE steel covering strip can even save up to 90 percent mounting time. As a simple and practice-oriented mounting solution, it can be fitted easily even when the guideway assembly is still mounted. The new MSX-F dummy guideway allows the carriage to be slide onto the guideway safely and easily and protects the carriage against the loss of rolling elements.
Schaeffler DuraSense condition monitoring of monorail guidance systems
With DuraSense, we have developed the world's first monitoring solution for monorail guidance systems. This optional additional equipment reduces unplanned machine downtime and enables automated relubrication as required.
Full compatibility with the previous series makes the upgrade easy
Monorail guideway series of the new RUE-F linear recirculating roller bearings and guideway assemblies are fully compatible with the previous RUE-E generation. Your customers can therefore simply replace the carriages. The extensive range of system accessories also fit without any restrictions.
Conclusion
The changeover to the new RUE-F linear recirculating roller bearing and guideway assembly is profitable in many respects. Inspire your customers with shorter assembly processes, lower running costs, and a longer operating life!
Do you have any questions about our products?
Link
Download of PDF brochure "Linear recirculating roller bearing and guideway assemblies / 6th generation RUE-F"
PDF download of Technical Product Information TPI 272 "RUE-F Sixth Generation Linear Recirculating Roller Bearings"
Download of PDF brochure "Schaeffler DuraSense – Mechatronic linear guidance system"