Schaeffler joins Burapha University to promote EEC Automation Park, new learning and training center for Industry 4.0 and 5G Technology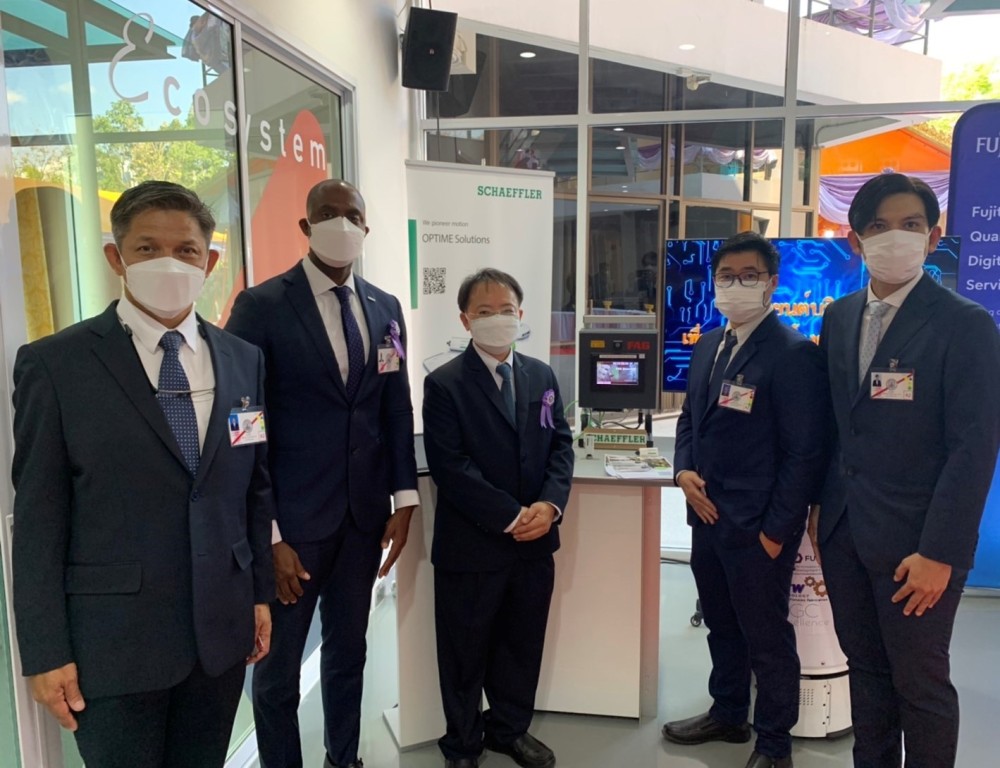 2022-01-19 | Chonburi | Singapore
Schaeffler signed a memorandum of understanding with Burapha University to establish a collaborative development of education and personal skills concerning factory automation system
The partnership aims to support industrial knowledge and relevant skills in areas of condition monitoring and bearing technologies
Schaeffler, a leading supplier for the automotive and industrial sector, has signed a memorandum of understanding (MoU) with Burapha University to strengthen its bearing and condition monitoring technology in Thailand.
The collaboration will see the development of an academic cooperation framework with Burapha University to support upskilling and re-skilling for engineers, workers, and graduates through courses, learning programs, and technical training conducted at the university's EEC Automation Park. In addition, students will have hands-on access to Schaeffler's proprietary bearing and condition-monitoring technology, including Smartcheck and OPTIME.
Mr. David Nevin, Industrial President for Southeast Asia at Schaeffler, said: "Thailand is primed to be the next hotbed for innovation in the region as it looks to accelerate digitalization across various industrial fields through its strategic Thailand 4.0 initiative. Our cooperation with Burapha Unversity will enable us to enhance and optimize our bearing and condition monitoring technology and solutions while providing the necessary resources in nurturing the next generation of workforce to drive innovation based on industry standards."
Driving a better future through collaboration
Strategically located on Thailand's Eastern Economic Corridor, the EEC Automation Park serves as a skill development and technology transfer center for industrial automation. In addition, the center will include an alliance network that supports Thailand's drive for technology and innovation in its industrial sectors, the center has also partnered with Mitsubishi Electric and the Japan External Trade Organization to drive technological innovation in the area.
Mr. Paiboon Limpitipanich, Director of EEC Automation Park and Head of Department of Mechanical Engineering, Faculty of Engineering, at Burapha University, said, "As Thailand ramps up its investments in technology industries, our cooperation with Schaeffler marks a step forward in developing the necessary talent resources to bridge the gap between operational and informational technology. Through our hands-on approach and providing a platform for technology transfer, the EEC Automation Park plays a critical role in Thailand's drive towards a better future through digitalization and automation. "
The center's was also royally opened by Her Royal Highness Princess Maha Chakri Sirindhorn together with representatives from the alliance network and Schaeffler.
Commitment to lifelong learning
Access to highly qualified talent is crucial as it serves as a decisive success factor for companies in a highly competitive environment. According to the Future of Jobs Report by the World Economic Forum, 47% of all employees globally will need re-skilling till 2025. Additionally, research suggests that the half-life of a learned skill is estimated to be five years and even shorter for technical skills, highlighting the need for professionals to commit to life-long learning.
Laura Hupka, Manager at Schaeffler Academy Asia Pacific, said, "Shorter innovation cycles combined with the rapid advancement of technology means that knowledge can quickly become outdated. At Schaeffler, we purposefully invest and collaborate with institutional partners to bring knowledge to pioneers to help shape the future of mobility and motion. "
To enable its vision for the strategic and systematic development of all its employees, the organization has developed a comprehensive catalog of training materials and methods to provide job-related development that encourages a high transfer of expertise and knowledge.
Publisher: Schaeffler (Singapore) Pte Ltd.
Country: Singapore
Share Page