Schaeffler partners with FAEAST United Motor Sport Co. Ltd. to shape future of racing in Thailand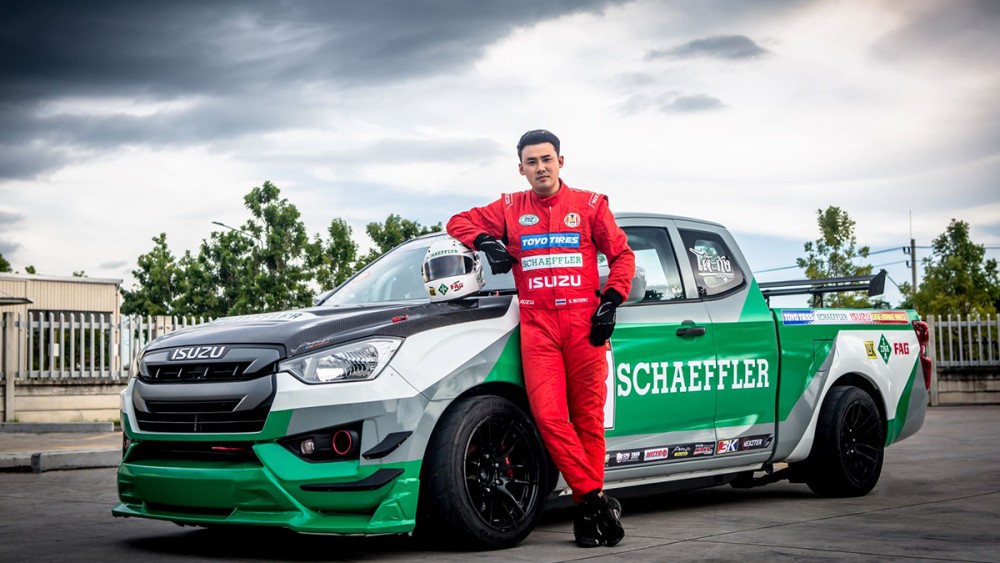 2021-09-23 | Thailand | Singapore
Schaeffler to be title sponsor of "Toyo Tires Schaeffler Racing Car Thailand 2021" racing series
Partnership aims to elevate racing experience for fans and bring relevant, future-oriented technologies to Thailand Motorsports
Schaeffler team car will compete in the "Isuzu One Mark Race 2.5L and 3.0L" model series
Chonburi | Sep 24th, 2021 | Schaeffler Manufacturing (Thailand) Co., Ltd. joins "Racing Car Thailand" organized by FAEAST United Motor Sport Co., Ltd as the title sponsor together with Toyo Tires. The racing event will now be called, "Toyo Tires Schaeffler Racing Car Thailand 2021". The much-awaited racing event will commence from (Date Sep 25th) after the Ministry of Public Health gave permission to hold the event maintaining strict Covid 19 protocols, set for the wellbeing and safety for all racers, teams and others related.
As a title sponsor, Schaeffler will also compete with a team car in "Isuzu One Make Race in 2.5L and 3.0L" type among the 21 racing categories. Team Schaeffler will be represented by professional racer, Wuttipat Khonkrittiphong, who brings over 10 years of racing experience to the circuit
The racing series is the oldest and largest motorsport in Thailand, which continues to run for the past 15 years with over 400 cars participating. Held across 6 racing formats, the series features 2 racetracks, including Bira International Circuit in Chonburi – the first racetrack in Thailand and the Chang International Circuit in Burirum – the first FIA Grade 1 and FIM Grade A circuit in Thailand.
As a pioneer in mobility and motorsports, Schaeffler considers motorsports as the ultimate testimony for our new technologies with a winning track record in global series like Formula E, DTM and Formula Student. Micah Shepard, President Automotive Aftermarket Asia Pacific and President Schaeffler Southeast Asia Pacific shared "For Schaeffler, motorsport is both a challenge and motivation that radiates excitement not only externally, but also within the organization. This draws us to the grid as a technology and innovation partner for several racing series comprising of diverse powertrain configurations – from conventional internal combustion engines to all-electric race cars and even hydrogen in the near future. The Toyo Tires Schaeffler Racing Car Thailand 2021 is our first step in bringing this global expertise to motorsports in Thailand. We are keen to further develop this technology collaboration with customers and new partners in Thailand and across Southeast Asia to create a truly global racing experience for motorsports fans in the region."
Adisak Masor, Race Director of FAEAST United Motor Sport Co., Ltd said, "I was a racer; I love speed and competition. I have always wanted to create a place for new racers and that is why "Racing Car Thailand" was started. Since the past 15 years, we have created many professional races. It is our pleasure to have a global company such as Schaeffler, whom has been participating in many Formula E and DTM, to be our partner this year. I am excited as it marks one of our many first steps in uplifting our event to an international level. Given the present COVID-19 situation, we are thankful to the government for authorizing the racing event. We are committed to people and public safety and we will ensure we follow all the safety protocols."
Race calendar for Toyo Tires Schaeffler Racing Car Thailand 2021
Round Date Venue
Round 2 Sep 25-26 Bira Circuit, Chonburi
Round 3 Oct 16-17 Bira Circuit, Chonburi
Round 4 Nov 06-07 Bira Circuit, Chonburi
Round 5 Dec 04-05 Bira Circuit, Chonburi
Round 6 Jan 22-23 Chang International Circuit, Burirum
Follow the "Toyo Tires Schaeffler Racing Car Thailand 2021" series on:
Watch the race live and cheer for the team on:
www.facebook.com/SchaefflerThailandor www.facebook.com/RacingCarThailandChannel
You can also watch it live on:
New 18 channel www.facebook.com/newtvpage
Tune in every Sunday from 12:00 hrs to 13:00 hrs
Publisher: Schaeffler Thailand Co. Ltd
Country: Singapore
Share Page