Schaeffler extends sponsorship with Garry Rogers Motorsport for Supercheap Auto Touring Car Racing Australia Series 2022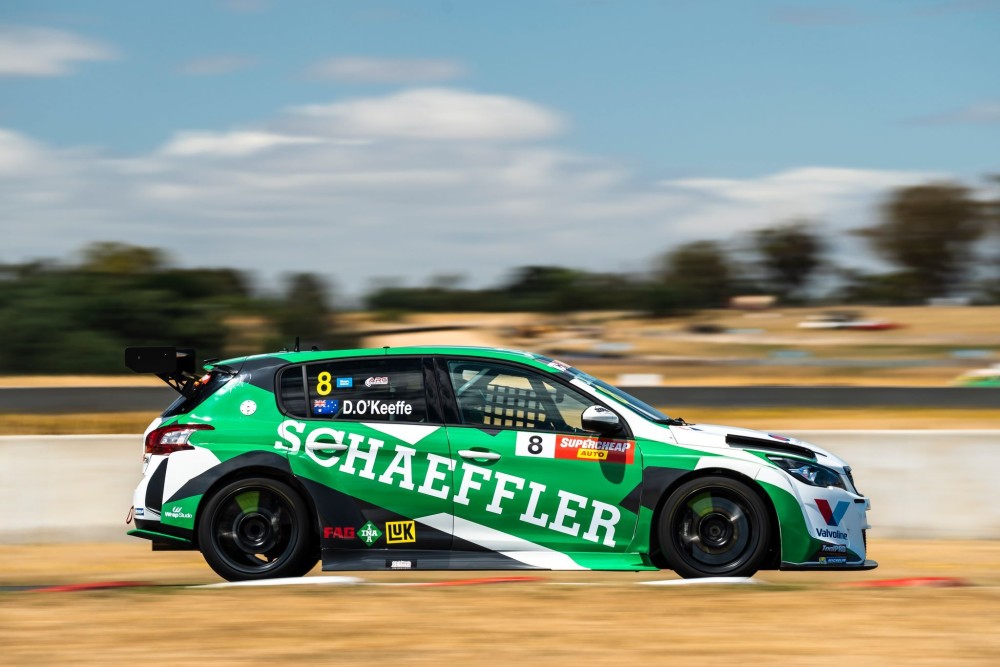 2022-05-23 | Singapore
Schaeffler Australia will be extending its sponsorship deal with Garry Rogers Motorsport and Dylan O'Keeffe for another season and be officially affiliated with all aspects of his racing programme
There has been an increasing interest in Touring Car Racing (TCR) Australia, with a 75% year-on-year growth in viewers in 2021 compared to 2019
Automotive and Industrial supplier Schaeffler has announced their renewed sponsorship with Garry Rogers Motorsport's (GRM) race driver Dylan O'Keeffe for the upcoming season of the Touring Car Racing (TCR) Australia Series.
Continuing on their partnership from 2021, the sponsorship deal will not only allow Schaeffler to offer its full support to the partner team by being officially affiliated with all aspects of O'Keeffe's racing programme but also strengthen Schaeffler's position as a recognised automotive aftermarket player and connect with its audiences in Australia.
Warren Barnett, Head of Automotive Aftermarket, Schaeffler Australia, said: "As an iconic brand in Australia Motorsport, we are excited to continue our partnership with Dylan and GRM. As one of the leading automotive aftermarket suppliers, motorsports provides one of the most important platforms in heightening the Schaeffler brand. Dylan's on-track excellence and off-track technical expertise at GRM continues to be an excellent representative of Schaeffler's automotive competence in technological and engineering expertise."
As the latest in a worldwide factory-derived motorsport program based on four and five-door production models from the small car segment, The TCR Australia series includes sporty iterations of models popular with the Australian market, including the Honda Civic, Hyundai i30, Renault Megane and Volkswagen Golf.
With seven races in different locations across the country scheduled for the 2022 season, Schaeffler's renewed partnership follows as interest for the racing series increases, garnering over 1.2 million in viewership across five races in 2021, with a 75% year-on-year growth in viewers in 2021 compared to 2019.
"As a family, including my dad Garry [Rogers], we're very passionate about motorsport. In recent years [we've been involved in] the TCRs, Trans Ams and the S5000s. These categories allow us to bring young guys through, [they're] affordable categories to get involved in [and offer] high-level motorsport with TCR being a global series." Barry Rogers, Garry Rogers Motorsport, Team Principal, said. "Dylan's continued professionalism and passion for racing both on and off track continue to impress after becoming the first Australian to compete at the opening round of the World TCR Cup at Belgium's Zolder circuit, a feat that can be considered to be the golden pinnacle of TCR racing," he added.
Part of Schaeffler's sponsorship benefits includes Schaeffler's logo signage on O'Keeffe's race suit, car, front of his helmet, and logo placements on pre and post-event email newsletters.
Commenting on the extended sponsorship, Dylan O'Keeffe said: "It is great to have Schaeffler onboard as a major sponsor to help maximise GRM's potential to get results for our sponsors and ourselves."
With the brand's active involvement in Deutsche Tourenwagen Masters (DTM) in Europe with drivers Sophia Flörsch and Marco Wittman, the sponsorship comes as Schaeffler looks to get increasingly involved in Asia Pacific's motorsport scene.
"The TCR series has the potential to become what DTM is to our European colleagues, and I think Australian motorsport fans feel the same way. It is the excitement and the willingness that TCR drivers have to push themselves beyond their limit." Warren said.
Despite a disappointing 2021 season in a Garry Rogers Motorsport Renault Megane R.S., the switch to the team's Peugeot 308 TCRs has seen Dylan re-emerging as a title contender this season and has since placed third in the standings.
Supercheap Auto TCR Australia will continue at Sydney Motorsport Park as part of a bumper Shannons Motorsport Australia Championships round on May 27 - 29
Publisher: Schaeffler (Singapore) Pte. Ltd.
Country: Singapore
Share Page