Schaeffler at the Future Mobility Asia 2022
Schaeffler presents range of solutions to drive sustainable mobility at Future Mobility Asia 2022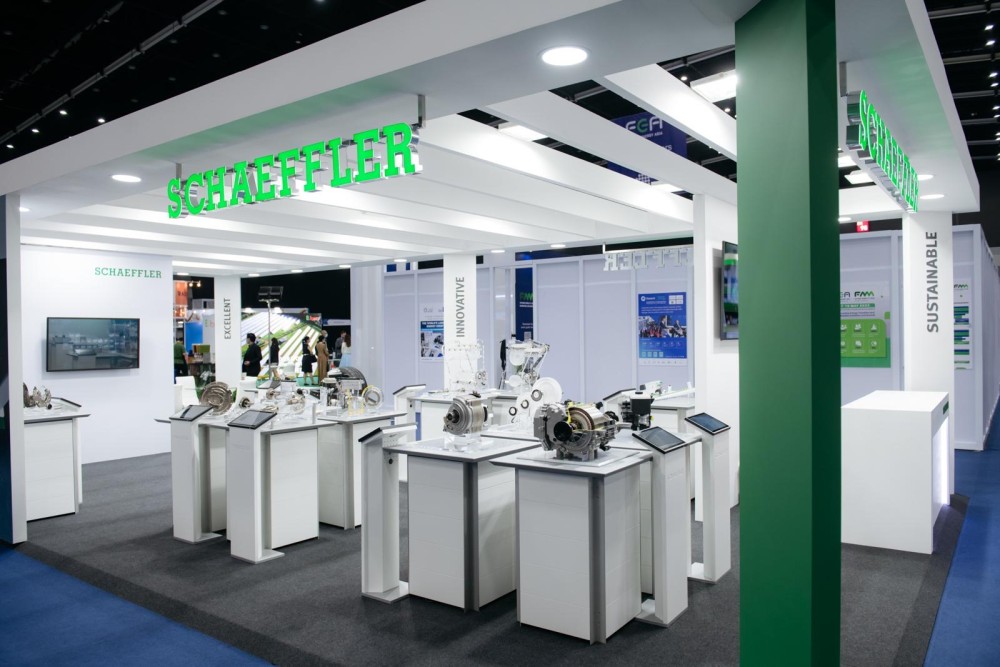 2022-07-21 | Bangkok | Singapore
Schaeffler will exhibit its range of components and system solutions that contribute to CO2 reduction, downsizing, weight reduction, and electrification at Future Mobility Asia 2022
Exhibits will feature solutions across the value chain, including E-Mobility, Hybrid EVs, Combustion Engines, Condition Monitoring and Aftermarket products
Schaeffler, a leading global supplier for the automotive and industrial sectors, will showcase its range of components and system solutions that contribute to CO2 reduction, downsizing, weight reduction, and electrification at Future Mobility Asia 2022 Booth MG09.
The global exhibition and conference, held at the Bangkok International Trade and Exhibition Centre (BITEC) from 20 – 22 July 2022, is the first of its kind in Asia dedicated to Future Mobility concepts, innovations, technologies and solutions in the region.
Santosh Poojari, President Automotive Technologies Southeast Asia, said: " The shift towards large-scale electrification in the region is opening up numerous opportunities in enabling sustainable mobility for a low carbon future. Moreover, the shift towards sustainability mobility also encompasses the need for CO2 efficient drives. Through our range of solutions for CO2 efficient conventional drive and pure electric drives, we look to deliver smarter and more innovative to help our customers actively leverage these opportunities and shape these changes."
E-Mobility Solutions
Schaeffler will feature 18 exhibits that consist of some of its latest products in its e-mobility, bearings, transmission & engine systems and chassis portfolio. This includes an integrated thermal management system that continuously regulates the temperature of batteries, electric motor, and power electronics – adapted to the ambient and operating conditions.
Schaeffler's highly integrated 3-in-1 electric e-axle, which combines an electric motor, the transmission, and power electronics in one system to demonstrate how performance electronics blend into the overall system.
Schaeffler's will also showcase its latest TriFinity Wheel bearing, an innovative triple-row wheel bearing designed for electrified powertrains that can transfer greater axle loads while offering a significantly longer service life and improved rigidity.
Enabling Energy Efficiency for Hybrids and ICE
Besides its range of e-mobility products, the exhibit will include displays of Schaeffler's Hybrid Electric vehicle portfolio, including a compact all-in-one smart hydraulics actuation system for single-speed e-axles and planetary gear sets for both electric and hybrid-electric drivetrains.
Furthermore, Schaeffler will demonstrate its Smart OverRun System, an electromechanical valve train system that allows for reduced workload for the catalytic converter, leading to less drag torque and an optimized start-stop system that is easier to use – allowing for increased efficiency and a measurable decrease in CO2 emissions for both hybrid and pure combustion engines.
Chatchawan Somjeen, Managing Director, Schaeffler Manufacturing (Thailand) Co., Ltd, said: "Future Mobility Asia acts as the central meeting point for OEMs, mobility innovators, suppliers and technology solution providers to spearhead conversations around Asia's mobility transition and transformation. As Thailand looks to position itself as an electric vehicle hub through policies such as the 30/30 plan and incentives for manufacturers and end-consumers, platforms such as Future Mobility Asia allow us to connect with like-minded customers and partners in pushing the boundaries of innovation in the automotive industry."
Alongside key industry players in the sector, Christoph Jung, Vice President, E-Mobility Asia/Pacific, will also present at the Innovation stage on 20 July, where he will share his insights on tailored electric powertrain solutions. He will also speak at the Centre Stage on 22 July in a panel session on Hydrogen Mobility.
To learn more about Schaeffler's participation in Future Mobility Asia, please visit Future Mobility Asia 2022 | Schaeffler Thailand
For updates on Schaeffler's participation at Future Mobility Asia, you may also follow Schaeffler Thailand's Facebook page.
Publisher: Schaeffler (Singapore) Pte. Ltd.
Country: Singapore
Share Page