Schaeffler partners with King Mongkut's University of Technology North Bangkok to nurture young talents in e-mobility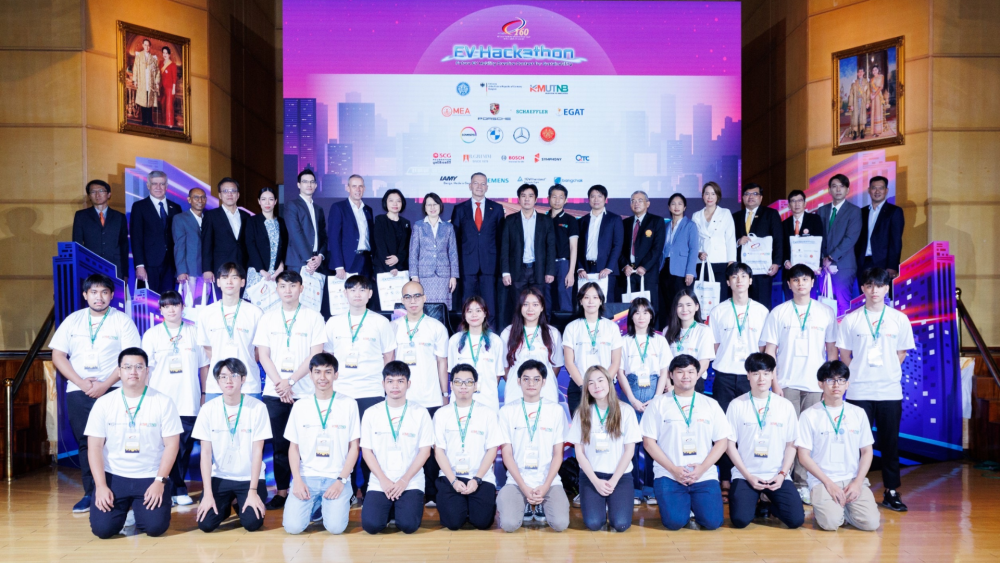 2022-08-27 | Bangkok/Singapore
Schaeffler partners with King Mongkut's University of Technology North Bangkok (KMUTNB) for the Future EV Mobility Creative Contest for Sustainability
The competition was organized to commemorate the 160th anniversary of diplomatic relations between the Kingdom of Thailand and the Federal Republic of Germany
116 teams of university students participated in the competition to vie for the grand prize of 100,000 baht
Schaeffler, a leading global supplier to the automotive and industrial sectors, has announced its partnership with King Mongkut's University of Technology to organize the Future EV Mobility Creative Contest for Sustainability for university students at King Mongkut's University of Technology North Bangkok (KMUTNB).
Sporting the theme of "Partners for Sustainable Growth" to commemorate the 160th anniversary between Thailand and Germany, the competition serves as a platform for university students to showcase their talent, knowledge, and skills in related areas such as EV technological innovation, product development, policy and impact on the economy, society, and environment.
Peradid Chotipasputt, Business Unit Manager, Transmission System, Automotive Technologies Southeast Asia and a member of the organizing committee, said: "Creativity and innovation are of great importance in driving the shift towards e-mobility. I am heartened to see the collaboration and exchange of creative ideas between the students and mentors and the wide variety of innovative solutions towards pushing the industry to greater heights."
Projects submitted by participants are judged based on three criteria— creativity, feasibility, and impact on economic, social and environmental sustainability. In addition, to bridge important knowledge gaps, all participants were mentored by experts from the industry in the latest electric vehicle technologies.
Eight teams of three students would compete in the final round during 27 – 28 August 2022 at KMUTNB to win cash prizes of 100,000 baht.
A hotbed for innovation and electrification
Organized in line with Thailand's Bio-Circular-Green Economy policy as the country transit's towards sustainable growth, the competition was also held in recognition of Germany's excellence in engineering and EV Mobility and its commitment to climate change mitigation within the German International Climate Initiative framework.
Chatchawan Somjeen, Managing Director, Schaeffler Manufacturing (Thailand) Co., Ltd. said: "Thailand has set its sights on transforming itself into a low-carbon society under the 30/30 policy, meaning 30% of total vehicle production should be focused on electric vehicles by 2030. Moreover, with electrification looking to gain up to 50% of the automotive mix in Southeast Asia, Thailand's strategic location as one of the top automotive manufacturing and export hubs offers us a wide range of opportunities to develop innovative solutions to tap into the country's growing market potential."
Nurturing qualified talents
As a multidisciplinary field requiring expertise across multiple engineering streams, building the right expertise and talents further serves as a critical factor in developing the e-mobility sector.
Pachamon Panyosuk, Head of Human Resources, Schaeffler Thailand, said: "The disruption in the automotive value chain has led to demands for wider flexibility regarding skills and competencies. To support these industrial shifts, we strongly believe in providing the necessary tools and resources to build a qualified workforce with the relevant skills. Similarly, platforms such as the EV hackathon enable us to nurture and attract a new generation of talents to pioneer solutions for a sustainable industry."
Schaeffler also recently signed a memorandum of understanding with Burapha University to establish an academic cooperation framework to support upskilling and re-skilling for engineers, workers, and graduates through courses, learning programs, and technical training conducted at the university's EEC Automation Park. As part of the training curriculum, students will have hands-on access to Schaeffler's proprietary bearing and condition-monitoring technology, including Smartcheck and OPTIME.
Publisher: Schaeffler (Singapore) Pte. Ltd.
Country: Singapore
Share Page