Schaeffler OPTIME and OPTIME C1
Schaeffler announces launch of OPTIME C1 intelligent lubrication system in Singapore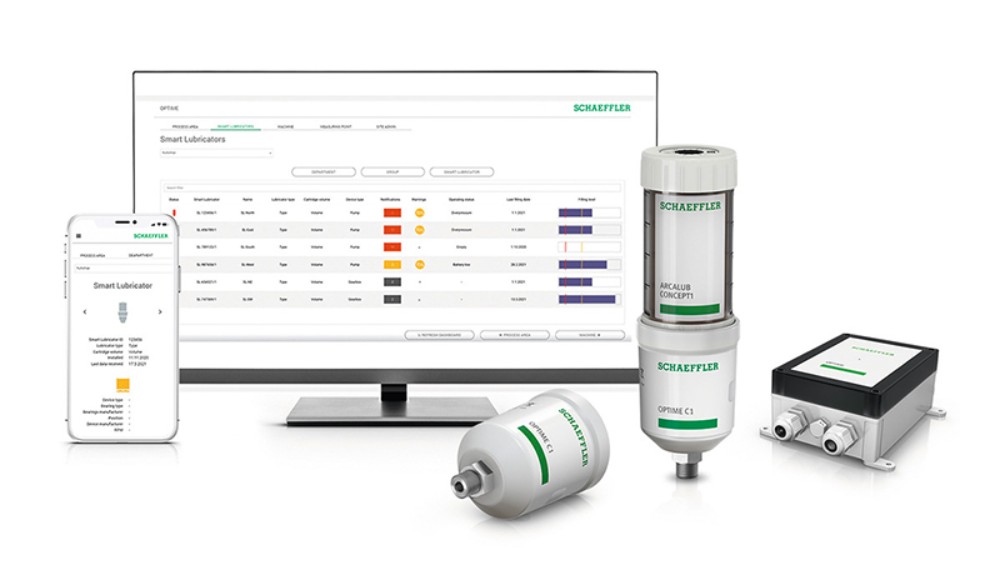 2022-10-17 | Singapore
Schaeffler's OPTIME C1 system simplifies complex lubrication management in industrial production plants
Targeted maintenance of relubrication systems eliminates the need for periodic, route-based checks
October 18, 2022 | Schaeffler, a leading global supplier to the automotive and industrial sectors, has introduced its OPTIME C1 Internet of Things (IoT) solution in Singapore.
Designed to reduce manual, route-based monitoring of rolling bearing components, OPTIME C1 integrates with Schaeffler's OPTIME mobile app and web-based dashboard to reliably prevent manual lubrication errors such as the incorrect use of lubrication, lubricant contamination, blocked bearing lubrication channels, or empty lubricators.
Commenting on the launch, Volker Erberich, Head of Industrial Lifetime Solutions Asia Pacific, said, "With OPTIME C1, we look to provide a simple holistic management system for lubrication at the touch of a button and provide greater transparency and production reliability for the industrial sector."
Turning Complex Lubrication Management into Simplicity
OPTIME C1 comprises a battery-powered unit designed to be secured onto a Schaeffler Concept 1 automated lubricator. The unit, which includes a communication module and a temperature sensor, automatically connects with the Concept 1 lubricators to form a mesh network.
The mesh network is able to capture and compute vital operating data, such as the number of days remaining until the next lubricant refill, and sends it via a gateway to the Schaeffler cloud and then on to the OPTIME app.
The open system also features an API to exchange data with existing maintenance tools. Relevant information is then provided to maintenance personnel via the OPTIME app, the web-based OPTIME dashboard, or, if required, via their software tool.
"The simple plug-and-play functionality of OPTIME C1 takes less than two minutes to install per lubrication point. This ensures that dozens of lubrication points on pumps, fans, compressors, machines, and conveyor drives can be monitored quickly, allowing maintenance specialists to focus their efforts on other core tasks," Volker added.
OPTIME for the WIN
OPTIME C1 combine all the benefits of Schaeffler's C1 automatic lubricators with Schaeffler's award-winning OPTIME condition monitoring technology.
Introduced in 2020 under the guiding principle "Plug. Play. Predict.", OPTIME is a wireless IoT solution that makes the condition monitoring of machines in manufacturing and production processes efficient and cost-effective. The solution was awarded the Industry 4.0 Innovation Award in 2020 by VDE-Verlag, one of the largest technology organizations in Europe. It was also awarded the Red Dot Design Award in the categories of "Smart Product" and "Industrial Design" in 2021.
David Nevin, President Industrial Southeast Asia, said, "Digital transformation in the manufacturing and industrial sectors is happening at a rapid pace across Southeast Asia. This makes ITAP 2022 in Singapore an ideal occasion for us to launch our OPTIME C1 system. As industry players look to seize growth opportunities against the backdrop of the fourth industrial revolution, we look to be key partners in creating key solutions to help them scale their operations and strengthen their position in key markets."
OPTIME and OPTIME C1 are now on display at Industrial Transformation ASIA-PACIFIC (ITAP) 2022, at the Singapore EXPO Hall 2 – German Pavilion Booth 2J31.
For more information on Schaeffler's award-winning OPTIME solutions, visit:
https://www.schaeffler.sg/en/products-and-solutions/industrial/product-portfolio/maintenance_products/optime/
Publisher: Schaeffler (Singapore) Pte. Ltd.
Country: Singapore
Share Page