Schaeffler presents sustainable mobility solutions at Automotive Engineering Exposition 2023 Yokohama including the 4in1 electric axle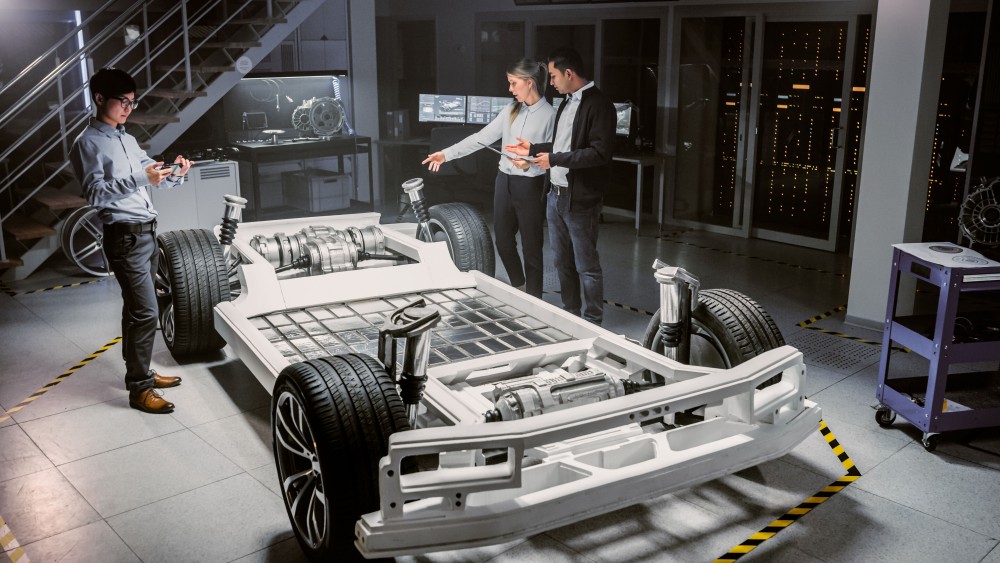 2023-05-22 | Singapore
Schaeffler will exhibit its range of components and system solutions that contribute to electrification, CO2 reduction, downsizing, and weight reduction
Featured solutions cover the automotive value chain, including renewable energy and hydrogen, powertrain innovations, new mobility & intelligent chassis, automotive aftermarket and industrial automation
Schaeffler, a leading global supplier for the automotive and industrial sectors, will showcase its range of components and system solutions that contribute to CO2 reduction, downsizing, weight reduction, and electrification at Automotive Engineering Exposition 2023 Yokohama, Booth #96 from May 24 – 26, 2023.
Organized by the Japan Society of Automotive Engineers (JSAE), this year's edition will see Schaeffler display over 20 exhibits that consist of some of its latest products across electric mobility, bearings, transmission & engine systems, chassis portfolio, industrial automation, and automotive aftermarket to approximately 40,000 visitors across the three-day event. Also, 12 of these exhibits will be displayed in Japan for the first time.
Schaeffler will also participate in the virtual edition of the exhibition, which will be open from May 17 to June 7, 2023.
Shoichi Tanaka, Managing Director of Schaeffler Japan, said: "We are excited to present Schaeffler's ongoing transformation in pushing the limits of efficient and sustainable mobility at the Automotive Engineering Exposition 2023 in Yokohama. Sustainability is one of the four corporate values of the Schaeffler Group. For us, sustainable business success means assuming ecological and social responsibility throughout the entire value chain, from production to our products."
Complete systems for electric mobility
Schaeffler is fully committed towards electric mobility. The company has launched several electric axle drives as part of its electric mobility strategy. One such drive is the latest 4in1 electric axle which combines individual subsystems – electric motor, transmission, power electronics, and thermal management – into one integrated system. The integrated thermal management system efficiently controls all cooling circuits in the vehicle and provides effective waste heat recovery using an intelligent heat pump system and high-efficiency motor. The 4in1 electric axle also dramatically improves the cruising range at low temperatures, saves space, reduces assembly man-hours, and provides an interface with the vehicle.
Wide range of CO2-efficient powertrain solutions
Schaeffler brings its comprehensive system understanding to lay the groundwork for highly efficient carbon-efficient powertrain solutions for its customers. On display at the exposition, attendees can experience the latest generation BMW B58 engine, which includes an electric cam phasing (intake and exhaust) and e-Rocker system for the exhaust valve deactivation to reduce the engine drag torque of 50 percent during overrun operation to maximize the MHEV (Mild Hybrid EV) effect.
Aside from passenger cars, Schaeffler will also showcase carbon-efficient technologies for heavy-duty engines that consume a large amount of fuel. These include rolling bearings, the cam profile switching system (e-Rocker system), and a fully variable valve train (iFlexAir system), which reduce frictional loss in valvetrain systems for engine efficiency.
Innovative bearings for efficient electrified powertrain and chassis systems
Alongside CO2-efficient powertrain solutions, Schaeffler is furthering its bearing development to meet new demands in electrification and autonomous mobility. One of the key highlights at the exposition will feature Schaeffler's TriFinityTM product, a triple-row wheel bearing, which can reduce friction torque by up to 34 percent. In addition, the wheel bearing is designed with high rigidity to improve vehicle handling and superior robustness that extends the service life of the bearings. The bearings also feature low noise, maintenance-free, and are optimally designed for weight reduction.
Comprehensive Aftermarket Solutions for Sustainable Mobility
Besides developing complete 4in1 electric axle drives, Schaeffler continues to provide leading automotive manufacturers with individual components and subsystems for electric and hybrid vehicles. In addition, the company is bringing its expertise in electric drives from original equipment to the independent aftermarket sector as it prepares to meet the growing demand for hybrid and electric vehicle repairs.
At the exposition, attendees can experience Schaeffler's aftermarket suite of repair solutions, including its FAG brand wheel bearings with face splines. Benefiting from lighter weight, easier installation, longer service life, and improved dynamic performance. The innovative face-splined designed wheel bearing is a service solution for Japanese aftermarket customers compatible with various other generations of wheel bearings.
Innovative maintenance solutions to keep the automotive sector rolling
Designed with maintenance teams and plant managers in mind, Schaeffler's condition monitoring solutions simplify industrial maintenance and meet the challenges of varying operating conditions. Tapping on over 20 years of experience in vibration diagnosis, Schaeffler will showcase its range of condition monitoring solutions at the exposition that offer everything manufacturing plants need to ensure fault-free and optimized operation regardless of plant complexity and machinery.
Pioneering mobility in hydrogen technology
Schaeffler further sees hydrogen as an important future energy carrier for automotive and industrial machinery applications. With the cross-sector development and production of electrolyzers and fuel cells, Schaeffler is offering bipolar plates for fuel cell stacks. To efficiently industrialize production, Schaeffler has established a joint venture company, Innoplate, in partnership with Symbio, a hydrogen joint venture between Faurecia and Michelin. Innoplate will commence large-series production of bipolar plates at the start of 2024, delivering customers improved performance, increased capacity, and economies of scale.
To register for the Automotive Engineering Exposition 2023 Yokohama, visit the official JSAE website.
Click here to visit "Automotive Engineering Exposition 2023 ONLINE" (jsae.or.jp)
Automotive Engineering Exposition 2023 ONLINE (jsae.or.jp)
Follow Schaeffler Japan's Facebook page for updates on Schaeffler's participation at the exposition.
Get detailed technical information on our Automotive products in our Digital Conference Book.
Publisher: Schaeffler (Singapore) Pte. Ltd.
Country: Singapore
Share Page